Emily Winslow at Open Mind Book Evening Cambridge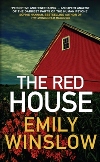 Emily Winslow, author of the Cambridge-set crime novels The Whole World, The Start of Everything, and The Red House, will be appearing at St Andrew's Hall in Chesterton on Friday 15th January at 7.30pm. Emily will be speaking about what it's like to set novels in a real place, how to juggle the expectations and subtle vocabulary mismatches of both a US and UK audience, and how Cambridge has inspired her.
Wine and refreshments will be served; books will be available for sale.
Tickets are £4 and are available from St Andrew's Hall or on the door.