Edward Marston is international guest of honour at Bouchercon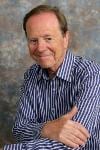 Bouchercon is the Annual World Mystery Convention, where every year readers, writers, publishers, editors, agents, booksellers and other lovers of crime fiction gather for a long weekend of education, entertainment, and fun.
In this, Murder at the Beach, Bouchercon 2014, Edward Marston, author of the Railway Detective, Bracewell and Home Front mysteries will be the International Guest of Honour, and will be interviewed by Barbara Peters on Friday, 14th November at 4.30pm. He will also participate in the Guests of Honor Panel and Closing Ceremonies on November 16th, at 11.30am. If you're on that side of the pond, do head along for what's sure to be a fantastic weekend!