Denise Meredith at The Lady Literary Lunch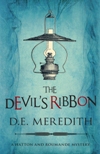 Join D E Meredith, the author of Devoured and The Devil's Ribbon, at the Caledonian Club, London for The Lady magazine's Literary Lunch. Denise will be speaking alongside authors Paul Finch and Anna Hope, at the lunch on Tuesday 4th March, 2014.
For your chance to meet the author and to buy a ticket, click here. Tickets cost £85 and include a drinks reception, a three-course lunch, including half a bottle of wine, tea and coffee, talks by the guests and signed copies of each author's featured book.