D E Meredith at Thames Valley History Festival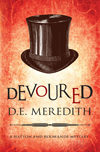 Acclaimed author D E Meredith will be joining a panel entitled The English and The Exotic to discuss the English exploration of exotic lands – a theme that features in her Victorian crime novel, Devoured. Essie Fox, Lloyd Shepherd and Jane Johnson will also be part of the panel. At the end of the evening, join the authors for a Q&A and book signing.
A bar will be run on the night serving wine and water. For more information and to purchase tickets, visit the festival website.