D. E. Meredith at Killer Women Festival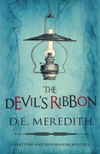 D. E. Meredith, author of the Hatton and Roumande detective series, will be appearing at this year's Killer Women Festival, an intensive, day-long festival for all crime fiction lovers. She will be featured on the 'Writing Murder in the Past' panel with other authors including Kate Summerscale and Andrew Taylor, discussing historical crime in the room where the inquest on Mary Kelly, Jack the Ripper's last known victim, was held.
The Killer Women Festival runs from 10am-8pm and features other well-known crime writers such as Mark Billingham and Val McDermid, plus a cocktail reception and signing to complete the day. Tickets for the full day are priced at £75 and can be purchased here.