D E Meredith and Judith Flanders at Victoria Library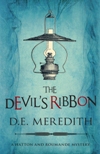 Not one but two A&B authors will be speaking as part of the 'Crimes of the Times' event at Victoria Library on Monday 9th June at 6pm.
D E Meredith (The Devil's Ribbon) and Judith Flanders (Writer's Block), authors of some fabulous Allison and Busby crime favourites,  will be joined by R.N. Morris, as they talk about their take on historical crime and thriller fiction.
This event is free, but book in advance:
By email at Victorialibrary@westminster.gov.uk
Tel: 020 7641 1300 and ask for Victoria Library.