Christopher Catherwood at Stapleford Granary, Cambridge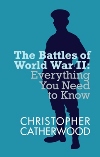 In this lecture Christopher Catherwood, author of The Everything You Need to Know books on the Battles of World Wars I & II, will discuss why World War I was an uneccessary war, that destroyed Europe's unity and leadership of the world.
The carnage was on a scale not seen since the Thirty Years War of the 17th century. But once Germany invaded Belgium Britain had no option but to fight to defend democracy, so the hundreds of thousands slaughtered in Flanders did not die in vain.
The lecture will be followed by Q and A session.