Catherine Aird talks CSI at Hatchards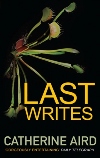 Come and see Catherine Aird, author of Last Writes and winner of the Diamond Dagger Award for her services to crime writing, sit on a panel with former CSI and vice president of the Forensic Science Society, Callum Sutherland, to discuss the anatomy of CSI. The event will take place from 7pm at Hatchards Piccadilly.
Tickets are £8, redeemable against a book purchase on the night of the event, and include a complimentary glass of wine. Further details of the event can be found here.