Caroline Moorehead at Oxford Literary Festival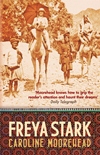 Caroline Moorehead, author of Freya Stark and the Iris Origo Biography will be appearing at the Oxford Literary festival on Wednesday 25th March.
Caroline will be discussing Village of Secrets (Chatto & Windus) – her historical non-fiction book about the dictatorship in France and Italy during and before the Second World War.
For more information click here. Please note that this event is now sold out.