Aline Templeton at the ReadingLasses Cafe, for Wigtown Spring Book Weekend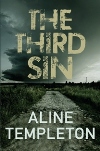 Come and Join A&B author, Aline Templeton, on Friday 1st May, as part of the Wigtown Spring Book Weekend. Aline's event, 'Pageturner', will begin at 6pm, in the award winning ReadingLasses cafe.
The author will be sharing her writing tips and methods at this event aimed at writers or those interested in starting to write. Aline is the author of eight thrillers based in Galloway featuring DI Marjory Fleming.  She is a prolific and successful writer. The talk will be followed by a chance to dine with the author at the ReadingLasses cafe.