Aline Templeton at Oswestry Library, for the Oswestry LitFest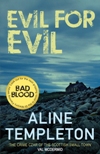 Aline Templeton, author of Evil for Evil and Bad Blood, will be speaking at 'Murder in the Library- Fact and Fiction', as part of the Oswestry LitFest. The evening will also feature real life crime tales from West Mercia Constabulary's Senior Forensics Officer, Paul Beeton.
For your chance to meet the author and for more information, click here.
Oswestry Library, Wednesday 19th March, 7pm-9pm