Aline Templeton at Lasswade Library, Scotland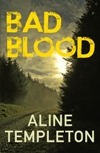 Book Week Scotland in association with 'Bloody Scotland' present an evening of crime with Aline Templeton. The author will be speaking, alongside Alex Gray and Marianne Wheelaghan, about her thrilling new book, Bad Blood.
Join these bestselling authors at the panel event on the 28th November, in the brand new Lasswade Library: 19 Eskdale Drive, Midlothian, EH19 2LA.
This event is free. For directions and contact details click here.