Aline Templeton at Bloody Scotland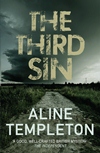 Aline Templeton, author of the DI Marjory Fleming series, will be discussing the influences of her hometown as part of 'How Tartan is your Noir?' at Bloody Scotland along with other local authors (Matt Bendoris, Neil Broadfoot and Bill Daly). The panel will be considering to what extent the Scottish setting of their novels influences the feel and direction of their work.
Tickets are £7.50 (or £6.50 for concessions) and can be bought here.