Alanna Knight at Unsolved Festival, Aberdeenshire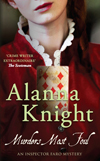 Join crime writer extraordinaire Alanna Knight who will be appearing at Unsolved Festival 2013 – a weekend of crime, mystery and intrigue hosted at various National Trust for Scotland properties throughout Aberdeenshire. Alanna is the author of the Rose McQuinn and Inspector Faro mysteries such as the upcoming title, Murders Most Foul.The Author's books will be available to buy at the event.
Saturday 19th October, Castle Fraser, Aberdeenshire. For tickets, Visit the National Trust for Scotland website.