Alanna Knight, Jessica Mann and Alison Joseph at the Queens of Crime event at Senate House, London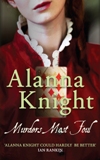 Alanna Knight and Jessica Mann and Alison Joseph will be taking part in the Queens of Crime conference at Senate House, London, joining other authors to celebrate female crime writers.
Since the 1920s, women have been among the most prolific and influential authors of crime fiction. Some of the best-known heroes and anti-heroes of fiction are also women. Alanna and Jessica will be speaking on a writers' panel with Kate Rhodes and Alison Joseph on the 'Reading and Writing Women' panel. For your chance to meet the authors, visit Senate House on Friday 13th June.
Registration for the conference is now open. Click here to register, or for more information, visit the conference webpage.