Alanna Knight at Carlisle Crime Writing Festival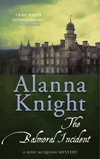 Join Alanna Knight, renowned author of the Inspector Faro and the Rose McQuinn series, at the Carlisle Crime Writing Festival, on Friday 12th June. Alanna will be speaking as part of the 'Historical Crime' panel, at 2.30pm. Alanna will be joined by Chris Nickson and Martin Daley to discuss their love of weaving stories into the pages of history, their favourite periods in history, and how they set their own stories against those periods.
And at 4pm, Alanna Knight returns to the stage with her fellow femmes Lin Anderson and Alex Gray. The three friends from Scotland are as popular as ever and will entertain the Carlisle audience as they discuss their work, their homeland and each other.
For more information, please visit the festival website.