Afternoon Tea with Helen Cadbury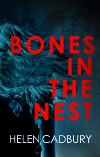 Join Helen Cadbury, author of the Sean Denton series, over afternoon tea to find out more about her writing journey and the inspiration behind her books.
Ticket are £10 and include a copy of her award-winning book To Catch a Rabbit as well as afternoon tea. There are only 15 places available so be quick! Tickets can be purchased from any York library.