Adrian Magson for Books Are My Bag – Rossiter Books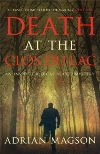 Adrian Magson, author of the Lucas Rocco Series, including Death at the Clos Du Lac, will be participating in the Books Are My Bag celebrations at Rossiter Bookshop (Ross Branch). Be sure to head along on Saturday 11th October, from 11am, to meet the author on what's sure to be a great day!
The BAMB weekend runs from Thursday October 9th until Saturday October 11th, culminating in the Big Bookshop Parties with An Author in Every Bookshop  on Saturday October 11th.
Keep an eye out for more details to come, and click here to visit the Books Are My Bag campaign website.